Find this product on Logos.com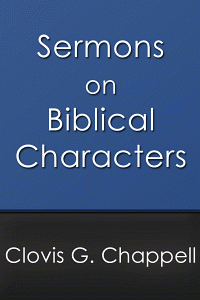 Sermons on Biblical Characters
Product Details
This collection of sermons by Clovis Gillham Chappell offers 16 sermons on various Biblical characters. Chappell offers in-depth exposition on the following Biblical characters:
The Missing Man—Thomas
The Great Refusal—Jonah
The Romance of Faith—Peter
Love's Longing—Paul
Going Visiting—Jonathan
The Woman of the Shattered Romances—The Woman of Sychar
A Good Man—Barnabas
The Inquest—Pharaoh
A Son of Shame—Jephthah
A Case of the Blues—Elijah
The Supreme Question—The Philippian Jailer
The Mother in Law—Naomi
Confession of Failure—The Busy Man
A Mother's Reward—Jochebed
A Good Man's Hell—Manasseh
A Shrewd Fool—The Rich Farmer
About the Author
Clovis Gillham Chappell (1882-1972) was a Methodist minister who held pastorates in Washington, Memphis, Houston, Birmingham, and Charlotte, North Carolina for over forty years. He received doctorate degrees from Duke, Centenary College of Louisiana, and Birmingham Southern College. In 1949, Chappell retired but chose to continue his speaking career throughout the country. Chappell wrote over 30 books that have been distributed worldwide.