Find this product on Logos.com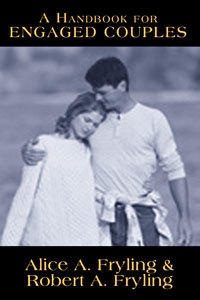 A Handbook for Engaged Couples
Highlights
Get to know the person you plan to marry
A workbook to use before and after marriage
Discussion questions on every aspect of marriage
Includes practical advice for understanding and resolving differences
Covers money, in-laws, child-rearing, sex, career goals, spiritual growth and much more!
Includes special counsel for couples entering a second marriage
Features three sections to work through during the first months of marriage
Can be integrated with a pastoral counseling program, used by a small group of engaged couples, or used by couples on their own
More than 300,000 sold! (original edition)
Product Details
You're engaged!
And now you are knee-deep in planning the details of the wedding. But are you also getting ready for what comes after the wedding?
Alice and Robert Fryling bring over twenty-five years of marriage experience to this workbook designed to guide you through open and honest communication about the things that will really matter in your marriage:
Money
Time
Communication
Sex
Family
Work
Faith
This isn't just a book you read--it's a book you experience together. Its interactive style allows you and your future spouse to explore its biblically-based counsel and challenging questions together or with a pastor. And with three chapters tailored specifically to your first few months together, you can even use A Handbook for Engaged Couples after the wedding.
Set aside time now to develop a marriage that starts well and grows to lasting maturity.
About the Authors
Alice Fryling is an active church member, a spiritual director, and the author of nine books. She has given numerous workshops and retreats seeking to help evangelicals know God and themselves more deeply. Alice served on the campus staff of InterVarsity Christian Fellowship and is married to Bob Fryling, publisher of InterVarsity Press. They have two married daughters and three grandchildren.
Robert A. (Bob) Fryling is publisher of InterVarsity Press (Westmont, Illinois) and Vice President of InterVarsity Christian Fellowship (Madison, Wisconsin). He writes, speaks and teaches in the areas of spiritual formation, leadership, Christian faith and culture. He lives in Illinois with his wife, Alice, an author and spiritual director. Together they have co-authored three books.