Find this product on Logos.com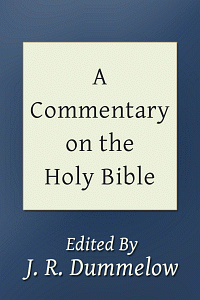 A Commentary on the Holy Bible
By Various Writers
Highlights
Over 1,100 pages of commentary
Compiled by 40 scholars
Includes over 150 articles
Product Details
Originally published in 1908, this extensive, one-volume commentary remained in print until the mid 1970's. Dummelow's Commentary is distinguished by two remarkable combinations of merits. First, it extraordinarily combines completeness and conciseness. Second, it combines, in a remarkable way, the highest religious reverence with exact scientific rigor. Preachers and theologians of many denominations and varying shades of faith have paid tribute to its "conservative liberalism."
The Commentary, numbering over 1,100 pages, provides critical and explanatory notes on the Scriptures along the following lines:
Explanations of historical references
Quotations of illuminating passages from the Apocrypha and early Christian writings
Citations of related passages in other parts of the Bible
Descriptions of ancient customs and legal practices referred to
Explanations of terms or phrases unfamiliar to a modern reader
Observations on contrasting interpretations to obscure lines
Analysis of a chain of thought as it progresses through a section
Clearer renditions of the original text
References to certain passages in subsequent history or church ritual
Notations of geographical peculiarities and references to the appended groups of maps
The reader will find these comments of inestimable value in understanding and interpreting any passage in the Bible. The comments are based on ripe scholarship and unprejudiced judgment; in matters where authorities differ, the writers have not attempted to bias the readers in any direction. In addition to the running commentary, there is for each book of the Bible a valuable introduction, the reading of which alone will greatly enhance the student's understanding of each book.
Endorsements
The popularity of this commentary is indicated by its numerous reprintings since its original publication date in 1909.