Find this product on Logos.com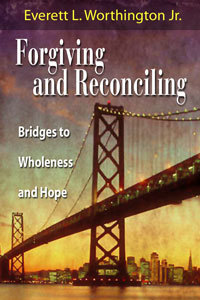 Forgiving and Reconciling
Bridges to Wholeness and Hope
Highlights
Shows what it takes to achieve forgiveness and reconciliation
Makes clear the scriptural foundations of Christian forgiveness
Examines intellectual, emotional, spiritual and relational aspects of forgiveness
Draws on the latest scientific research, including much of Worthington's professional work
Includes Worthington's personal odyssey toward forgiving his mother's murderer
Provides a wealth of clinically proven tools and exercises
Biblical, authoritative and pastorally sound
Written by the leading Christian researcher on forgiveness
Revised edition of Five Steps to Forgiveness
A Templeton Foundation 2003 Book of Distinction
Product Details
All of us have suffered painful emotional and relational hurts. God calls us to forgive those who have hurt us, but that's often easier said than done. We don't usually know how to forgive others, nor are we always sure if we have truly forgiven them.
Psychologist and counselor Everett L. Worthington Jr., the leading Christian researcher on forgiveness, says that forgiving is a gift we give to others. When we offer forgiveness to others as an altruistic gift, it is more effective than when we forgive only for our own benefit in an effort to "get over" the hurt. True forgiveness is accomplished through a careful process of understanding both the offense and the offender and taking active steps to forgiveness. In this insightful and practical book, Worthington provides a wealth of clinically proven tools and exercises for moving toward forgiveness.
Worthington's expertise comes not only from years of scientific research but also from the experience of the brutal murder of his own mother. His convictions were put to the test as he worked through his conflicting emotions and rage toward the murderer. He found that the principles of Christian forgiveness enabled him to forgive even his mother's killer.
While forgiveness is something that we can do on our own, reconciliation involves another party. Worthington brings both themes together and shows how we can move beyond forgiveness and cross the bridge to reconciliation. This book, previously published as Five Steps to Forgiveness, has been fully revised to make clear the scriptural foundations of Christian forgiveness. Biblical, authoritative and pastorally sound, this guide will be of help to anyone who wants to find the freedom of forgiveness.
About the Author
Everett L. Worthington Jr. (Ph.D., University of Missouri) is professor of psychology at Virginia Commonwealth University. A licensed clinical psychologist, he serves as director of VCU's Marital Assessment, Therapy and Enrichment Center (MATE) and served as executive director of the Templeton Foundation's Campaign for Forgiveness Research. He has published more than 200 articles and papers on marriage, family and forgiveness in a wide variety of journals and magazines. He is the author of many books, including Marriage Counseling, To Forgive Is Human, and Hope-Focused Marriage Counseling.
Endorsements
Dr. Worthington's book and program offer a simple, compassionate way to achieve the gift of true forgiveness.