Find this product on Logos.com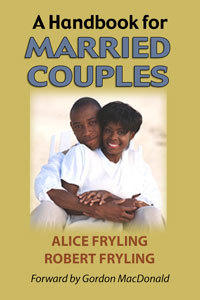 A Handbook for Married Couples
Product Details
Marriage can bring the best of times and the worst of times. But open and honest communication makes all times better.
Alice and Robert Fryling offer married couples a chance to enhance their marriages. They help readers learn crucial skills such as how to make decisions together and how to resolve conflict. Then they apply these skills to tough marital issues like sex, spiritual growth, disappointment and money. Each chapter contains helpful advice, questions for discussion between husbands and wives, and suggested reading.
About the Authors
Alice Fryling is an active church member, a spiritual director, and the author of nine books. She has given numerous workshops and retreats seeking to help evangelicals know God and themselves more deeply. Alice served on the campus staff of InterVarsity Christian Fellowship and is married to Bob Fryling, publisher of InterVarsity Press. They have two married daughters and three grandchildren.
Robert A. (Bob) Fryling is publisher of InterVarsity Press (Westmont, Illinois) and Vice President of InterVarsity Christian Fellowship (Madison, Wisconsin). He writes, speaks and teaches in the areas of spiritual formation, leadership, Christian faith and culture. He lives in Illinois with his wife, Alice, an author and spiritual director. Together they have co-authored three books.