Find this product on Logos.com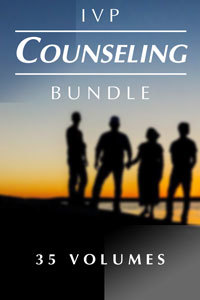 IVP Counseling Bundle
35 Practical Resources
Highlights
Excellent resource for counselors, pastors, and concerned friends
Biblically deals with important, sensitive issues
6 volumes on marriage and family
4 volumes on abuse
6 volumes regarding sex
Product Details
Anyone involved in ministry will eventually be faced with the problems of others. We have all experienced the anguishing personal problems that people bring to us looking for help.
InterVarsity Press leads the publishing field when it comes to offering solid, Christian advice on a whole range of personal relationships, discipleship, addictive behaviors, and emotional and spiritual healing.
The IVP Counseling Bundle is a 35-volume collection full of powerful and effective resources you'll find indispensable for locating tools to help you or those you love find freedom, healing, reconciliation, and deeper intimacy with God. Each book in this set offers biblical help on topics that will, at some point, affect us or those within our churches: sexual abuse, homosexuality, child abuse, emotional wounds, suicide, addiction, suffering, pornography, soul care, marriage, parenting, and much more.
When the IVP Counseling Bundle is in your Wordsearch library, you'll find it easy to search topics and combine additional material from other resources in your digital library. The Cross-Reference Explorer in Wordsearch will also help you find interesting stories and practical applications you can use in creating lessons and sermons.
Check out a sample of this bundle by clicking on the yellow "Sample" button under the book cover on this page. To see a sample of each volume, click on the book cover under "Included Products."
Products Included In This Bundle