Find this product on Logos.com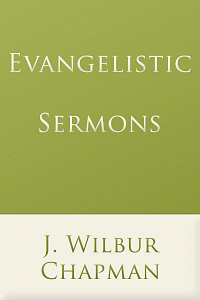 Product Details
These sermons, full of power and wisdom, were preached in 1916 and represent the best of Dr. Chapman's work. Originally recorded from stenographic reports during the time of their delivery, the sermons were reproduced with an effort to "preserve the form and manner of the evangelist's speech." As such, to capture their full effect, the discourses contained within are intended to be read aloud. This volume contains eighteen sermons, with titles such as:
The Master Is Come (John 11:28)
Eternity (Isaiah 67:15)
A Neglected Truth (John 3:7)
The Precious Blood of Christ (1 Peter 1:19)
Going Home (Luke 15:22)
About the Author
Dr. J. Wilbur Chapman (1859-1918) began his ministry in a New York pastorate, but very quickly thereafter determined to devote himself completely to an evangelist ministry. Preaching with D.L. Moody, Chapman traveled widely throughout the United States, Canada and abroad. Quiet in temperament, Dr. Chapman preached the Gospel with all of its great truths in a very simple and plain manner, but with great power and persuasiveness. He is credited with having helped to ignite a passion in the church for the salvation of the lost.