Find this product on Logos.com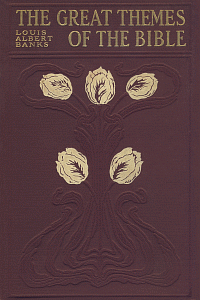 The Great Themes of the Bible
Product Details
In every age, men and women must reckon with deep questions of the soul. The discourses in this volume will help one find satisfactory answers for such questions in the Word of God. A sample of sermon titles, includes:
The Answer to Life's Hidden Riddle
Facing Life's Sackcloth with Unblinking Eyes
The Unrecognized Ministries of Life
The Garments of Religion
The Value of the Mysterious
These sermons were written with the hope that they would lead many to the blessings and peace found in God's Word.
About the Author

Louis Albert Banks (1855-1933) was educated at Philomath College, Oregon. He was licensed to preach by the United Brethren Church when he was only sixteen; though, he would later join the Methodist Episcopal Church and serve the denomination as a deacon, elder, and pastor. In 1877, after a year of studying law, Banks was admitted to the bar. In 1890, Banks was given the degree of D.D. by Mt. Union College.
Banks was a fervent temperance advocate; he ran for governor of Massachusetts on the Prohibition Party ticket, served as an evangelist for the American Anti-Saloon League, and was once shot by an angered saloon-keeper. From his experience with the saloon-keeper, Banks wrote The Censor Echoes. Additionally, Banks was very troubled by the labor conditions of those working in sweat-shops and tenement-houses and wrote White Slaves in response. The book received national recognition and ignited a series of congressional investigations. Well-known and respected in his time, Banks preached the word with direct and persuasive language, and his sermons are sure to bless those who read and use them.