Find this product on Logos.com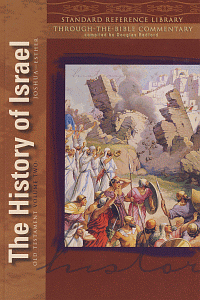 The Standard Reference Library: The History of Israel
Joshua-Esther
Product Details
This volume, The History of Israel, surveys the events of Israel's history from the crossing of the Jordan to the exile beyond the Euphrates. Noting the victorious conquest of the land, the dark days of the judges, the glory of the united kingdom, and the downward spiral of the divided kingdoms, the book gives a broad overview of Israel's leaders and their influence, for good or bad, on the nation. It concludes with a note of hope as the nation is rebuilt after the exile.
About The Standard Reference Library
Small group leaders, Sunday school teachers, preachers, and other serious Bible students will be blessed by owning this through-the-Bible commentary set. In five volumes, this set covers the Bible in chronological order. With verse-by-verse exposition of selected passages, The Standard Reference Library will give the student a good understanding of the Bible as a whole. Drawn from the pages of the popular Standard Lesson Commentary®, this set includes helpful exposition on the texts that teachers have been using most over the past 50 years.
About the Author
Doug Redford is associate professor of Old Testament at Cincinnati Christian University. Doug was born and raised near Columbus, Indiana, where he was a member of the Jonesville Christian Church. He has served as preacher, an editor of Sunday school curriculum at Standard Publishing, and currently as a Bible teacher at CCU. He and his wife Margie have three children: Jessica, Jon, and Tim; and one grandchild: Robby.