Find this product on Logos.com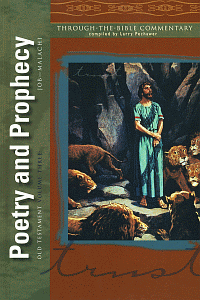 The Standard Reference Library: Poetry and Prophecy
Job-Malachi
Product Details
This volume, Poetry and Prophecy, examines some of the favorite passages in the Old Testament. The Shepherd's Psalm, Isaiah's prophecy of the virgin birth and the "Wonderful Counselor," Ezekiel's dry bones, and Daniel in the lions' den - they are all here. The book surveys the rich poetry of Israel (Job-Song of Solomon) and then gives an overview of the books of prophecy (Isaiah-Malachi).
About The Standard Reference Library
Small group leaders, Sunday school teachers, preachers, and other serious Bible students will be blessed by owning this through-the-Bible commentary set. In five volumes, this set covers the Bible in chronological order. With verse-by-verse exposition of selected passages, The Standard Reference Library will give the student a good understanding of the Bible as a whole. Drawn from the pages of the popular Standard Lesson Commentary®, this set includes helpful exposition on the texts that teachers have been using most over the past 50 years.
About the Author
Larry Pechawer is professor of Old Testament and Hebrew Language at Ozark Christian College. A native of Springfield, Ohio, Larry is married and has two children. Previous to serving at Ozark, he taught at Cincinnati Christian University and Central Christian College of the Bible in Moberly, Missouri. He has also held ministries in Ohio, Kentucky, and Missouri during his teaching career. He participates with Seminary of the Nations in overseas teaching trips; he has taught in Pakistan, India, Egypt, the Caribbean, Panama, and Chile.