Find this product on Logos.com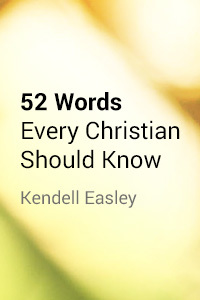 52 Words Every Christian Should Know
Product Details
"When I use a word," Humpty Dumpty said, in a rather scornful tone, "it means just what I choose it to mean - neither more nor less."
"The question is," said Alice, "whether you can make words mean so many things."
"The question is," said Humpty Dumpty, "which is to be master-that's all."1
Humpty Dumpty was clearly a 19-th century postmodernist. The problem with postmodernism is that it doesn't work well outside ivory towers. Humpty Dumpty wouldn't want to be on a plane whose pilot subscribed to his reconstructionist philosophy of word meanings. Anyone who flies surely hopes the pilot and the air traffic controller are on the same page. Words constitute the common currency that gets us on the same page.
Kendell Easley believes words and their meanings are vital now and have eternal consequences. So he has provided this handy resource that both informs and inspires.
Each of the 52 terms is presented in a two-page study, organized into 8 major biblical categories. All begin with a pertinent citation from the Holman Christian Standard Bible, continue with a concise definition, move on to a brief discussion, and close with thought-provoking questions and a devotional prayer.
About the Author
Kendell H. Easley is director of the Master of Christian Education program at Union University in Germantown, Tennessee, and serves as professor of Christian Studies. He is also pastor of leadership development at Germantown Baptist Church. Dr. Easley is author of Quicksource Guide to Understanding the Bible, Holman Illustrated Guide to Biblical History, Living with the End in Sight: Meditations on the Book of Revelation, Holman New Testament Commentary: Revelation, and User-Friendly Greek: A Common Sense Approach to the Greek of the New Testament. Dr. Easley has degrees from John Brown University (B.A.), Trinity Evangelical Divinity School (M.Div.), and Southwestern Baptist Theological Seminary (Ph.D.).