Find this product on Logos.com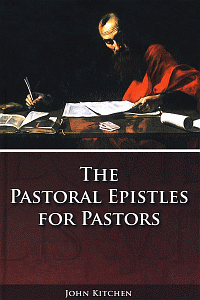 The Pastoral Epistles for Pastors
Product Details
From the Book...
The Pastoral Epistles for Pastors weaves three distinct features into the fabric of one helpful volume. It will serve your needs in any number of different ways. Three of the most obvious ways it will serve you are as a commentary, a counselor, and a coach.
As a commentary you will find that The Pastoral Epistles for Pastors provides a wealth of exegetical information regarding the text of the Pastoral Epistles. This will aid you in personally understanding God's Word, in preaching and teaching these texts, and in explaining the meaning of these Scriptures to the people whom you shepherd.
As a counselor you will find generously dispersed throughout the text Ministry Maxims. These are pithy, pointedly stated principles of ministry which arise from or are suggested by the verse where they are found. Each is stated in such a way as to distill the wisdom of the given Scripture into a pointed—and sometimes provocative—statement of principle which applies in ministry contexts of all cultures and at all times. Do you wonder if that is possible? Have a debate with one of the Ministry Maxims? Then they have served their purpose! They are stated in thought-provoking ways in order to stimulate thought and rouse you to interaction with the truth. While the commentary speaks facts into your mind, the Ministry Maxims are designed to speak truth into your heart.
As a coach this companion never allows you to leave a section of Scripture without stopping to ponder how its truth applies to your life and ministry. It provides bridges of application from the truths found in the text of Scripture to the work of ministry in your local church. Through the Digging Deeper questions dispersed generously throughout the text, the reader is stimulated to think of how the truths of the PE apply to the reader's life and local church ministry. If the commentary is designed to speak facts into your mind and the Ministry Maxims are designed to speak truth into your heart, then these Digging Deeper questions are intended to put skill into your hands as you serve the Lord by serving His people. Additionally, the appendices provide practical ideas on how you can use the PE in personal ministry growth, training local church leaders, and preaching the PE.
As an added bonus, each of the biblical books discussed is outlined in three ways: 1) As a Single Message; 2) As a Short Series; and, 3) As a Long Series. This will provide you with flexible ideas for presenting the content of the Pastoral Epistles to your congregation or class in an organized and systematic way.
About the Author
John Kitchen is the pastor of Stow Alliance Fellowship and has been in pastoral ministry since 1987. He holds degrees from Crown College (BA), Columbia Biblical Seminary (MDiv) and Trinity Evangelical Divinity School (DMin). John has authored five previous books, including Proverbs: A Mentor Commentary.
Endorsements
This is an excellent conservative commentary that aids pastors and counselors who preach and teach the Scriptures to church members and others. It is designed to coach the reader into digging deeper by asking and answering pointed questions that apply to one's spiritual life. The appendices are a treasure that prove to be eminently helpful.
I heartily welcome and endorse this encyclopedic survey of Paul's Pastoral Epistles. For years we have had Eugene Stock's Practical Truths from the Pastoral Epistles and W. Edward Chadwick's The Pastoral Teaching of St. Paul: His Ministerial Ideals, but this volume goes beyond them in exposition and application. The beginning pastor and the seasoned minister will both discover in these pages enlightenment, encouragement and a new sense of wonder and privilege of being a servant of God. You can live in this book for the rest of your life and have a more fruitful and rewarding ministry!
Dr. Kitchen is an honest exegete and faithful expositor of both the Greek and English texts of the Word of God. His application sections are encouraging and challenging as well. Recommended for pastors and serious students of the Word.
The Pastoral Epistles for Pastors provides an even and thorough treatment of Paul's Pastoral Epistles from a conservative viewpoint. The Appendices deserve special note due to their extraordinary value to the expositor, especially Appendix C: Topical Index to Ministry Maxims; Appendix D: Exegetical and Expositional Outlines; and Appendix E: Annotated Bibliography. This volume should be on every preacher's bookshelf.