Find this product on Logos.com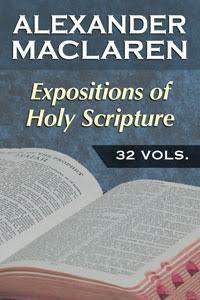 Expositions of Holy Scripture
Highlights
Features over 1,500 sermons in biblical order
Every word is written to be preached and taught
In Wordsearch, these sermons work like a commentary so you can study them alongside your other digital resources
Maclaren was called "the prince of expository preachers"
Product Details
Alexander Maclaren (1826-1910) spent his life studying and preaching the Word of God. Expositions of Holy Scripture his masterpiece - a 32-volume collection of over 1,500 sermons and expositions spanning almost every book of the Bible.
Maclaren was a gifted theologian and preacher. At a young age, he became an expert in biblical languages and used this knowledge to clarify the interpretation of Scriptures. His thoughts are easy to digest, understand, and teach. Each passage of Scripture is titled like a sermon, and he clearly outlines his thoughts in two or three points, along with his insight. Maclaren is particularly brilliant at contextualizing passages of Scripture. Every word is written to be preached and taught.
Plus, in Wordsearch, this work acts like a commentary so that you can study it alongside your other digital reference works. This set also includes one of the most comprehensive indices of any major expositional work available today.
Check out a sample of the Expositions of Holy Scripture by clicking on the yellow "Sample" button under the book cover on this page.
About the Author
Alexander Maclaren, D.D. (1826-1910) delivered his first sermon at the age of seventeen and continued preaching throughout his life. Maclaren attended the Baptist College in Stepney where he became a committed student of the original Bible languages and would often enrich his listeners (and readers) through his keen understanding of the original tongue.
Maclaren's first pastorate was a small, dying church in Southhampton. In 1858 Maclaren moved to Manchester where, after eleven years, the church had need to build a 1,500-seat building, and Maclaren's homiletical abilities became famous throughout the English-speaking world. In 1905, after 45 years of ministry, Maclaren resigned as pastor.
Maclaren's lifelong Bible study has been passed on to later generations through his many expository writings. In them, the reader will find the scholarship of a learned and dedicated communicator and servant of Jesus Christ.
Endorsements
As an expository preacher none of them equaled Maclaren of Manchester, and no other sermons were so widely read the world around. . . . Dr. Maclaren is said with truth to have changed the whole style of the British pulpit, and to have influenced it more (than) any of his predecessors.
Alexander Maclaren's Expositions of Holy Scripture are the wonder of modern preachers because he steadily throughout a long life pursued his Hebrew and Greek studies. He had consummate genius and he added to it fullness of knowledge by means of laborious scholarship.
Maclaren is a homiletical well that never runs dry. I have often warned young preachers not to read Maclaren too early in their sermon preparation, for they will be tempted to preach him! You should own this set, read it, and learn from it.
In these volumes, Preachers will find a fine example of expository preaching.