Find this product on Logos.com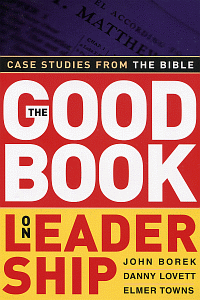 The Good Book on Leadership
Case Studies from the Bible
Product Details
The Bible provides fascinating case studies on leadership as you find every variety of leadership style and vision within its pages. A close examination of these personalities reveals much about the character of leadership.
The Good Book on Leadership examines these leaders on a case-by-case basis to unveil the biblical models for leaderships. These models apply not just to pastors but also to business, sports, government, and even the military. God's Word provides us with what we need to know - for any situation - to provide godly leadership and guidance.
About the Author
John Borek is president emeritus of Liberty University. He holds a Ph.D. in business administration. He resides in Lynchburg, Virginia.
Danny Lovett has led Liberty Baptist Theological Seminary since 1996. His previous book include Rod of the Spirit: A Journey into the Spirit-Filled Life and Jesus is Awesome: Christian Life and Evangelism. He resides in Lynchburg, Virginia.
Elmer Towns is dean of the B.R. Lakin School of Religion at Liberty University, which he cofounded with Jerry Falwell. His books include Fasting for Spiritual Breakthroughs, Praying the Lord's Prayer for Spiritual Breakthroughs, and Praying the 23rd Psalm. He resides in Lynchburg, Virginia.