Find this product on Logos.com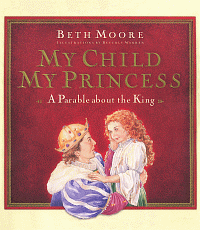 My Child, My Princess
A Parable about the King
Product Details
Imagine being a princess, but not wanting to be.
She was rich. And beautiful. Loved and cared for. As the daughter of the King, she had everything a little girl could want.
Except she felt trapped. She wanted all the fun she saw in the eyes of ordinary children who played in the streets beneath her. So, disguising herself as a peasant girl, she sneaks off into their world, hoping to find the one thing she feels she lacks - her freedom.
But what will she see when she looks through the eyes of a runaway? Can a King's daughter ever be happy pretending she's not?
About the Authors
Beth Moore is a writer and teacher of best-selling books and Bible studies whose public speaking engagements carry her all over the United States. A dedicated wife and mother of two adult daughters, Moore lives in Houston, Texas, where she is president and founder of Living Proof Ministries. Her books include Praying God's Word, Believing God, Breaking Free, A Heart Like His, The Beloved Disciple, and many others.
Beverly Love Warren divides her time between illustrating and leading small-group Bible studies for women. She, her husband, and their three children live in Washington state.