Find this product on Logos.com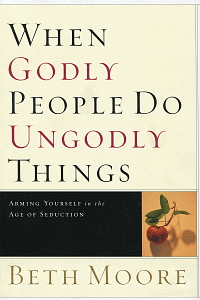 When Godly People Do Ungodly Things
Arming Yourself in the Age of Seduction
Product Details
In the midst of the winds of evil currently blowing in our world today, Christians will do well to remember that the Evil One still lurks, waiting to seduce those who belong to the Lord, seeking to destroy the testimony of their walk with God.
It is reported in the headlines, confessed in the pulpits, and hidden in the pews in churches around the world. The seduction of God's people by the deceiver is a tale as old as the garden, but we are always surprised when it happens. We must realize that Satan is a lion on the prowl, and we are his prey.
Writing with a passion fueled by the biblical warnings of the schemes of Satan's seductive activity and the broken-hearted concern of a teacher who receives countless letters from repentant Christians limping on the road to restoration, best-selling author Beth Moore examines why devoted followers of Christ indeed can and sometimes do fall into the traps of Satan. Delivering dire warnings to Christians to safeguard themselves against Satan's attacks, Beth writes, "We, Christ's church, are in desperate need of developing His heart and mind in issues like these." When Godly People Do Ungodly Things is a guide to authentic repentance and restoration.
---
After writing Breaking Free and Praying God's Word, both teaching Christians how to overcome strongholds that keep us from true freedom in Christ, Beth was amazed at the reaction—countless letters from believers who were or had experienced "harrowing rounds of defeat at the hands of the devil." What she discovered was a number of common denominators among those who had fallen prey to such seduction. She also found that the resulting sinful traps that wounded theses Christians were not confined to sexual sin, though that is certainly a tool of the enemy. She found that Godly people were trapped into seasons of all sorts of ungodly behavior stemming from money, power, position, materialism, any number of worldly temptations.
When Godly People Do Ungodly Things is divided into three sections. The first section is a warning to believers, showing scriptural proof of the desires of the roaring lion prowling our world "to exact revenge on God by wreaking havoc on His children and to try to incapacitate the believer's God-given ability to overcome him." She next shows us how to plan against an attack from our enemy, realizing that we can be ready to stand strong in the face of his plans. The final section is directed to those who have been snared by seduction. It points the way back to God, the forgiving Father, using I Samuel 12:20-25 and the story of the Prodigal Son to map the pathway to authentic restoration with our Lord.
When Godly People Do Ungodly Things not only exposes the seduction of Satan, warning strong believers to be aware and stand firm, but also shows the seduced how to find authentic restoration with their heavenly Father.
About the Author
Beth Moore is a writer and teacher of best-selling books and Bible studies whose public speaking engagements carry her all over the United States. A dedicated wife and mother of two adult daughters, Moore lives in Houston, Texas, where she is president and founder of Living Proof Ministries. Her books include Praying God's Word, Believing God, Breaking Free, A Heart Like His, The Beloved Disciple, and many others.