Find this product on Logos.com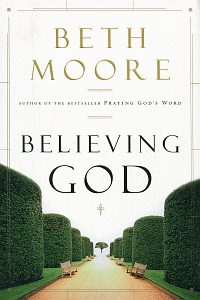 Product Details
Do you believe God or merely believe IN Him?
Do you take God at His word, believing what He has told us, or do you just believe in His existence and the salvation he offers?
What does it mean to believe God? Abraham and Moses believed God. This planted in them a seed of faith that grew into towering oaks of steadfast trust and belief. Hebrews 11 is full of other examples of bold belief.
Beth Moore brings these characters to life in a way that will spring forth in you a fresh explosion of faith!
About the Author
Beth Moore is a writer and teacher of best-selling books and Bible studies whose public speaking engagements carry her all over the United States. A dedicated wife and mother of two, Moore lives in Houston, Texas, where she leads Living Proof Ministries and teaches an adult Sunday school class.