Find this product on Logos.com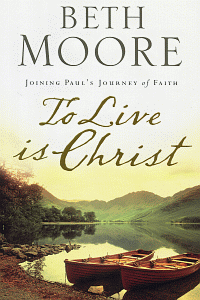 To Live Is Christ
Joining Paul's Journey of Faith
Product Details
For the apostle Paul - author of most of the books of the New Testament - life with Christ was a total 180 degree turn from where he had been. From Christian basher to Christian champion. From church attacker to church father. Truly, when Jesus captured Paul's soul, He got all of him.
The same can be true for you. No matter who you've been or what you've done, your Christian life can be a complete, all-consuming experience - filled with more passion, purpose and power than you ever expected to find in one place. Join with best-selling, author, teacher, and speaker Beth Moore as she relives Paul's journey - and marks a bold, new path for your own.
A Spiritual Odyssey Through the Life of One of Christianity's Most Fervent Journeymen and One of Christ's Most Passionate Followers, the Apostle Paul.
About the Author
Beth Moore is a writer and teacher of best-selling books and Bible studies whose public speaking engagements carry her all over the United States. A dedicated wife and mother of two adult daughters, Moore lives in Houston, Texas, where she is president and founder of Living Proof Ministries. Her books include Praying God's Word, Believing God, Breaking Free, A Heart Like His, The Beloved Disciple, and many others.