Find this product on Logos.com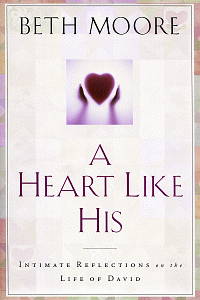 A Heart Like His
Intimate Reflections on the Life of David
Product Details
Would you like to know the heart of God? Come to know the "man after God's own."
He rose from a common shepherd boy to become the leader of two nations. He slew a giant and saved a kingdom. He was an adulterer and a murderer, yet a man after God's own heart. Kind David was a great and noble man of ancient times. But he also has much to say to men and women today.
In this in-depth biblical biography, Beth Moore takes you on an intimate, exciting journey through virtually every astonishing episode of David's remarkable life. From shepherd, to refugee, to king of Israel, David exhibited the purest virtues and the most heinous sinfulness. But through it all, his relationship with the Lord continued to grow. A Heart Like His looks at this bond of mutual love and admiration from today's perspective and draws spiritual insight and understanding from a man who boldly fulfilled his divine destiny.
Based on Scripture and Moore's probing insights into the romantic mysterious, majestic life of David, A Heart Like His will show you how to serve God better by understanding your own unique place in His heart.
About the Author
Beth Moore is the writer and teacher of many Bible studies used in churches throughout the world. She is the author of the best-selling books Things Pondered, Praying God's Word, Breaking Free, Feather from My Nest, To Live Is Christ, When Godly people Do Ungodly Things, Jesus, the One and Only, and Believing God. Her public speaking engagements annually carry her all over the United States. A dedicated wife and mother of two, she lives in Houston, Texas.