Find this product on Logos.com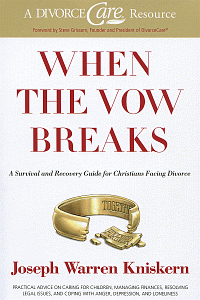 When the Vow Breaks
A Survival and Recovery Guide for Christians Facing Divorce
Product Details
MAYBE YOUR MARRIAGE IS FINISHED, BUT GOD ISN'T.
Divorce in the Christian home. Contrary as it is to God's ideal, and hard as it is for many Christians to accept, it is a harsh, painful reality.
What can you do as a Christian when facing your own divorce? Or how can you help someone else who's going through one? When the Vow Breaks is a valuable resource, written by a Christian who has lived through an unwanted divorce himself.
In this sensitive yet extremely comprehensive guide-revised and updated after many years of ministering hope to thousands-attorney Joseph Warren Kniskern describes the emotional aspects of his own failed marriage, while also providing a thorough study of what the Bible says about marriage, divorce, and remarriage. More importantly, he shows how God can and does continue to work in people's lives, even in the aftermath of divorce.
With its extensive bibliography and other useful aids, such as sample financial settlement statements and legal correspondence, When the Vow Breaks is a must for anyone facing or recovering from the break up of a marriage.
DIVORCE IS TOUGH. DON'T GO IT ALONE.
About the Author

JOSEPH WARREN KNISKERN is an attorney with more than thirty-two years of experience who has based his approach to legal issues solidly on Scripture throughout his career. He is affiliated with the Christian Legal Society and has been cited in Who's Who in American Law. He is also author of Making a NEW Vow: A Christian Guide to Remarriage and Blending Families and currently resides with his wife, Cheryl, and their son Chase in Raleigh, North Carolina.
Endorsements
At last, a book about divorce that keeps its scriptural head while being all heart! ...Written with the commitment of a Christian, the thoroughness of a lawyer, and the compassion of a reluctant divorcee, When the Vow Breaks is a unique cord of three strands.
I found [When the Vow Breaks] to be extremely informative and helpful in understanding and ministering to those in the turmoil of a broken marriage. I also found the book to be unique in that I have not seen a similar book that addresses the subject of marriage in distress from both a biblical and legal perspective.
Sensitive, caring, compassionate, reasonable, and practical-from an attorney who cares.
I sincerely wish I had Warren's book at the time of my own divorce. I can also think of hundreds of clients over the years who could have benefited greatly from this book.
I see a very practical and dynamic place for Mr. Kniskern's book on the shelves of many professionals. This is a carefully designed resource for marriage and divorce counseling which compiles some of the best material from the legal, psychotherapeutic, and spiritual points-of-view...Because this material is presented like nothing else in print, I personally commend this book for your careful consideration.
Warren's book...is exceptionally well-researched, thorough, and very well written. Warren has done a masterful job of looking at the topic from every angle...It is one thing to read a book to get information. It is another thing to read a book to find comfort and hope. This book does both. The much needed facts are there, but so is the power and encouragement of God's love and grace.
Mr. Kniskern has done extensive research of the scriptures and other facts, and thus the information he gives is not only credible but trustworthy...This is such a valuable asset, as lay persons are given helpful advice to take them through the complicated legal process which usually results from a divorce.