Find this product on Logos.com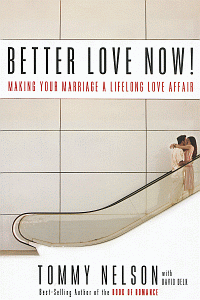 Better Love Now!
Making Your Marriage a Lifelong Love Affair
Product Details
GOD HAS SOMETHING MORE FOR YOU THAN A MEDIOCRE MARRIAGE.
In Better Love Now! best-selling author Tommy Nelson helps husbands and wives in any season of marriage improve the state of their sacred union by addressing these six areas:
Priorities
Family Life
Communication
Respect
Your Life Together
Sex
With wisdom, humor, and necessary frankness, he guides men and women through each topic, looking closely and candidly at the expectations and assumptions they both bring into their marriage. Together in this less vulnerable setting, couples can put any issue that might need improvement on the table, begin to better understand one another, and soon achieve escalated romance and relationship rewards.
Your marriage was made to be a lifelong love affair. Take a step toward better love now!
About the Authors
Tommy Nelson has served as the pastor of Denton Bible Church, located in Denton, Texas, since 1977. He is also a best-selling author and popular national marriage conference speaker. Nelson holds degrees in education and biblical studies and has been married to his wife Teresa for more than thirty years.
David Delk is president of Man in the Mirror ministry and coauthor of The Dad in the Mirror. He received an M.Div. degree from Reformed Theological Seminary and lives with his wife and kids in Orlando, Florida.
Endorsements
Tommy Nelson is one of the most gifted Bible teachers in America.