Find this product on Logos.com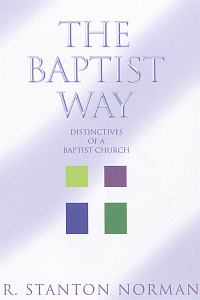 The Baptist Way
Distinctives of a Baptist Church
Product Details
The greatest contribution of Baptists to Orthodox Christianity may well be in the area of ecclesiology. From their earliest beginnings, Baptists have been thoroughly committed to planting and building churches that are completely faithful to the New Testament. At the dawn of a new millennium, Baptists must continue to follow the biblical ideals so that Baptist churches will continue to be kingdom outposts for the next generation.
The Baptist Way is an introduction to the principles that distinguish Baptists from other Christians and offers ecclesiological distinctions of healthy Baptist churches.
Some of these were once peculiarly Baptist ideas that are now more widely held among other groups. For Stan Norman healthy Baptist churches intentionally and diligently adhere to their Baptist distinctions.
About the Author
R. STANTON NORMAN serves as director for the Baptist Center for Theology and Ministry. He also occupies the Cooperative Program Chair for SBC Studies and serves as Associate Professor of Theology at New Orleans Baptist Theological Seminary. He resides in Mandeville, Louisiana.