Find this product on Logos.com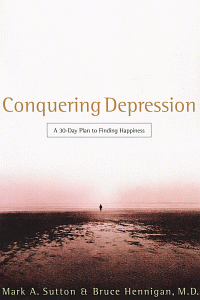 Conquering Depression
A 30-Day Plan to Finding Happiness
Product Details
Find a Way to a Happier Life!
Happiness seems forever elusive as people look for the more abundant life but seem unable to find it. Depression can be a much misunderstood disease, yet there are vast numbers of Christian men and women who are looking for help with their problem.
Finally, with an interest stemming from their own experiences, Mark Sutton and Dr. Bruce Hennigan take an approach to overcoming life's difficulties that is grounded in both spiritual and medical principles. Conquering Depression provides step-by-step encouragement and instruction to manage and win over depression.
About the Authors
MARK SUTTON is the author of Thirty Days to a Better Marriage, and he has been a contributing author to other books. He teaches marriage seminars nearly every month across the country. He currently resides in Shreveport, Louisiana.
BRUCE HENNIGAN is a Christian physician, a gifted playwright, and the author of Montana Holmes, a book of plays. HENNIGAN currently makes his home in Shreveport, Louisiana.