Find this product on Logos.com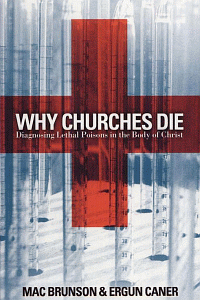 Why Churches Die
Diagnosing Lethal Poisons in the Body of Christ
Product Details
Passion Fades. Poison invades. WHY DO CHURCHES DIE?
Right now, there are congregants who would rather stay in bed each Sunday morning and soon enough will. Likewise, preaches who want to resign every Monday after another uninspired weekend worship service may study the want ads more closely than upcoming sermon notes.
Authors Mac Brunson and Ergun Caner draw parallels between sicknesses of the human body and the ailments among members of the body of Christ. Practicing a science of spiritual forensics to prevent churches from death, they examine, diagnose, and offer treatment for the cancer of gossip, the atrophy of shrunken faith, shortsighted vision, hardening of the heart, and more.
Why Churches Die is a spiritual breakthrough for the church uniquely conveyed through a medical motif.
Bring church back to the biblical model... joyous and encouraging.
About the Authors
Mac Brunson is senior pastor of First Baptist Church in Dallas, Texas. He served as president of the North Carolina Baptist State Convention and as president of the Pastor's Conference of the Southern Baptist Convention. Mac and his wife, Debbie, have three children.
Ergun Caner is dean of Liberty Baptist Theological Seminary of Liberty University. He is the best-selling author of Unveiling Islam: An Insider's Look at Muslim Life and Belief. Ergun and his family reside near Lynchburg, Virginia.