Find this product on Logos.com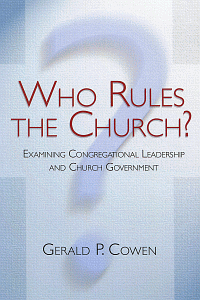 Who Rules The Church?
Examing Congregational Leadership and Church Government
Highlights
Does the New Testament present an implicit system of church government?
What group in the church is vested with sovereignty, under God?
What is the difference between a pastor, an elder, and a bishop?
What is a deacon?
Do the Greek words translated elder, bishop, pastor, and deacon always refer to
church officers?
Should the pastor-elder be called by God or by the church?
Does the New Testament authorize election of a board of elders or deacons to
govern a church?
Can a church have more than one pastor-elder?
Product Details
Gerald Cowen offers answers to critical questions concerning how the New Testament church is to be governed. Who Rules the Church? contends that the New Testament model for congregational government is Pastoral Leadership—Congregational Rule. In other words, authority is given by the Lord to the congregation itself, but the pastor is God—called to that congregation not only to serve and take care of the congregation but also to be the leader.
About the Author
Gerald Cowen is professor of New Testament and Greek at Southeastern Baptist Theological Seminary. His previous books include Sermon Starters in the Greek New Testament and Salvation:Word Studies in the Greek New Testament.