Find this product on Logos.com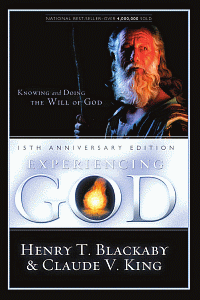 Experiencing God
Knowing and Doing the Will of God
Highlights
Sold over 7,000,000 copies
Translated into more than forty-five languages.
Product Details
A modern classic that has sold millions of copies worldwide, Experiencing God is based on seven Scriptural realities that teach us how to develop a true relationship with the Creator. By understanding how God is working through us even as we try to fathom His ways, we can begin to clearly know and do His will and discover our lives greatly and gracefully changed.
When you open this book, you'll find that you aren't just reading. No, you are being remade, reoriented, restored from the frustration of what you may have known as stale religion. Captured not by a concept but by your Creator, reborn in relationship.
Here's the Experiencing God that has already impacted millions of people. Only it's bigger, better, and ready to lead you again- or for the very first time- into an experience with God. Carefully listening to His voice will anchor you in His plan, and set you free to live it with boldness and freedom.
After a thorough revision, this landmark volume returns with seven new chapters, as well as dozens of true stories from people who, though this book, have experienced God.
About the Authors

Henry Blackaby is a best-selling author and spiritual mentor to many. His influence is felt everywhere from small-town churches to the highest levels of government, where his counsel is sought and his relationship with Christ used as a model for many. He is also founder and president emeritus of Blackaby Ministries International, an organization built to help people experience God. He and his wife Marilynn have five children and fourteen grandchildren and live in Rex, Georgia.
Richard Blackaby is the oldest of Henry and Marilynn Blackaby's five children and an established author and speaker in his own right. Having served as a pastor and seminary president, he now leads Blackaby Ministries International. He holds degrees from the University of Saskatchewan, Southwestern Baptist Theological Seminary, and Dallas Baptist University. He lives with his wife and children in Canada.
Claude King is editor-in-chief for updated resources at LifeWay Christian Resources. He holds degrees from Belmont College and New Orleans Baptist Theological Seminary and lives with his wife in Murfreesboro, Tennessee.