Find this product on Logos.com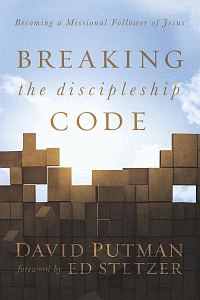 Breaking the Discipleship Code
Become a Missional Follower of Jesus
Product Details
Ed Stetzer and David Putman's popular church leadership book Breaking the Missional Code is helping pastors and ministry staff to guide their collective congregations toward becoming missionaries in their communities. But the need remains for this concept to be further defined at an individual level. Breaking the Discipleship Code, written this time by Putman with a foreword from Stetzer, opens the door to a greater understanding of what it means to personally be a missional follower of Jesus in relation to every aspect of our changing world.
Balancing cultural relevance with biblical faithfulness, the book invites ordinary believers, whether on Wall Street or in a Waffle House, next door or across the ocean, to begin having an extraordinary spiritual impact in their unique context.
About the Author
David Putman is co-founder and Director of ChurchPlanters.com a national ministry that focus on helping new and young churches reach people who are far from God. David also serves at Mountain Lake Church in Atlanta, Georgia where he focuses on issues related to Global initiatives. David speaks, writes, coaches, and consults with leaders, pastors, and churches around the world. His books include Breaking the Missional Code (with Ed Stetzer), Breaking the Discipleship Code, and Detox for the Overly Religious. David and his wife Tami have two children.
Endorsements
The only way to have a missional church is to have missional people in it. Period. In this engaging volume, David Putman gives wonderful insight into not just describing what missional people look like, but how they get that way. Breaking the Discipleship Code is a great devotional aid for your own personal growth as well as a conversation starter for your group to chart a missional path.
We can talk and dream about missional churches. We can talk and dream about evangelism, worship and leadership in missional churches. But if we aren't talking about discipleship; the future of missional churches are in big trouble. David invites us into this conversation in this important book.
David Putman authentically shares his life and experiences in Breaking the Discipleship Code. Of course we want our churches to be missional but if we don't break the code of discipleship our churches will never have the impact God desires. If you lead the disciple-making process of a local church or simply longs to be a disciple of Jesus read Breaking the Discipleship Code to discover how to live like Jesus, love like Jesus and leave behind what Jesus left behind.
Breaking the Discipleship Code is a timely reminder of our most important task: making disciples. It will help you rethink the way you do discipleship and accomplish the task more effectively.