Find this product on Logos.com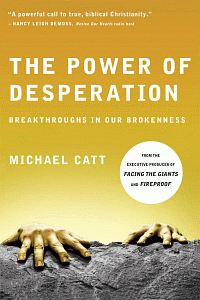 The Power of Desperation
Breakthroughs in Our Brokenness
Product Details
Does it feel like you're barely hanging on?
Hang in there. In seasons of brokenness, God has a graceful way of not tossing us aside but making us whole again, turning our most desperate situations into defining moments. It happens throughout the Bible, and maybe it's happening to you or someone close right now.
Michael Catt, a pastor whose church launched the international hit films Facing the Giants and Fireproof, has found simple yet saving wisdom in The Power of Desperation, another breakthrough concept worthy of widespread application.
"When we are weak, He is strong. In the darkest hour, He shines the brightest. In the pit, we find the bottom is solid ground," Catt writes at the outset of a soul-stirring journey through his and other people's hard times and renewed hopes.
Keep reading to find yourself in theses engaging, remarkable stories, to realize you are never alone, and to know the Lord more intimately. Discover the power of desperation.
About the Author
Michael Catt has served as senior pastor of Sherwood Baptist Church in Albany, Georgia, since 1989 and is executive producer of the poplar Facing the Giants and Fireproof films that originated from the congregation. He also authored Prepare for Rain and Fireproof Your Life and is founder of the ReFRESH revival conference. Michael and his wife, Terri, have two children.
Endorsements
This book has a solid backbone and a tender heart, exactly what we need when things are falling apart around us. These chapters are biblical and practical but not preachy. No matter what your difficulties may be today, there's an encouraging word for you in these pages. Open the book, open your heart, and start moving toward victory.