Find this product on Logos.com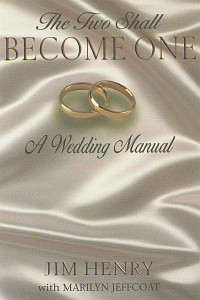 The Two Shall Become One
A Wedding Manual
Product Details
Whether your wedding is to be traditional or contemporary, this manual gives valuable advice speaking to every facet of wedding planning.
Over the last two decades, The Pastor's Wedding Manual has become an indispensable guide for planning and performing weddings. The updated edition recaptures the timeless suggestions of the original manual but also offers fresh ideas and contemporary suggestions.
Timely issues are addressed such as:
Premarital Interviews
Wedding Coordinators
The Order of Service
...as well as new perspectives on traditional facets of wedding planning such as:
Wedding Rehearsals
Wedding Vows
Wedding Music
Also included are entire wedding ceremonies, both traditional and contemporary, that can be edited or used in their totality.
Written from a pastor's perspective, The Two Shall Become One reaffirms the sanctity and meaning of marriage. Wedding participants are encouraged to embrace and celebrate all the joy and wonderment represented by the wedding ceremony.
About the Author
Jim Henry, senior pastor of 10,000-member First Baptist Church in Orlando, Florida, has been a pastor for forty years. Dr. Henry, past president of the Southern Baptist Convention, serves as the Chairperson of the Baptist Worship Study Commission of the Baptist World Alliance and as an advisor on the Advisory Committee on Religious Freedom Abroad of the U.S. Department of State. He is the author of five books, including The Pastor's Wedding Manual and In Remembrance of Me.
Marilyn Jeffcoat, a graduate of Reformed Theological Seminary and a doctoral student with Trinity Theological Seminary, is the Bible Department Chairperson at The First Academy of First Baptist/Orlando and a free lance author.