Find this product on Logos.com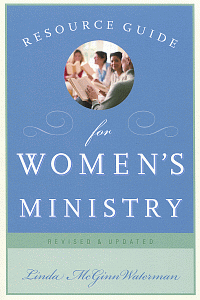 Resource Guide for Women's Ministry
Product Details
Many Christian women have a deep desire to share Christ's joy in the large and small ways. What is the best way to do this, considering the onslaught of busy schedules and individual needs?
Resource Guide for Women's Ministry provides a wealth of information on the types of creative ministries available today plus advice on how to select the ones that best suit each woman's talents and time. Linda McGinn Waterman will help Christian women identify their spiritual gifts, talents, and skills, and use them to fulfill their own lives as well as the ministry of the church.
About the Author
Linda McGinn Waterman is a national conference speaker and author of more than twenty books focused on equipping women in God's Word and work. She has more than twenty years experience creating and directing leadership development programs, designing and developing instruction curriculum, and identifying and instructing trainers of various prominent national ministries. Linda is a graduate of Gordon College and received the master's degree from Regent University. As a board member of John Maxwell's Injoy, she wrote Called to Influence, a spiritual development curriculum for the National Women's Ministry Association. She resides with her husband in Chester, Maryland.