Find this product on Logos.com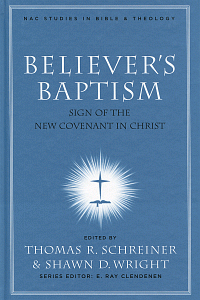 New American Commentary Studies in Bible & Theology: Believer's Baptism
Sign of the New Covenant in Christ
Product Details
Is believer's baptism the clear teaching of the New Testament Scriptures? What are the historical and theological challenges to believer's baptism? What are the practical applications for believer's baptism today? Volume two in the New American Commentary Studies in Bible & Theology (NACSBT) series for pastors, advanced Bible students, and other deeply committed laypersons addresses these compelling questions.
Indeed, Believer's Baptism begins with the belief that believer's baptism (as opposed to infant baptism or other faith proclaiming methods) is the clear teaching of the New Testament. Along the way, the argument is supported by written contributions from Andreas Kostenberger, Robert Stein, Thomas Schreiner, Stephen Wellum, Steve McKinion, Jonathan Rainbow, Shawn Wright, and Mark Dever.
Users will find this an excellent extension of the long-respected New American Commentary.

About the Authors:
Thomas R. Schreiner is the James Buchanan Harrison New Testament professor at Southern Baptist Theological Seminary in Louisville, Kentucky. He also serves as preaching pastor at Clifton Baptist Church in Louisville and has written a number of nationally published books and articles. Schreiner and his wife have four children.
Shawn Wright is assistant professor of Church History at Southern Baptist Theological Seminary in Louisville, Kentucky, and also serves as one of the pastors at Clifton Baptist Church. Wright and his wife have five sons.
Endorsements
Believer's Baptism is destined to be a classic concerning the doctrine of baptism. It is scholarly and practical, biblical and pastoral. Without demeaning those with whome they disagree, the contributors to this volume make the case for believer's baptism by immersion as biblical baptism. Any future discussion of this dictrine will have to take this work into consideratin.
This book brings a marvelous amount of clarity to an old debate, showing the importance of this issue, interacting graciously with those who support infant baptism, and providing a wealth of biblical, historical, theological, and practical information. It is a challenging book that may well cause many readers to re-think their own positions on baptism!
Believer's Baptism is now unquestionably the best volume on a theology of baptism and the best defense of believer's baptism available. The editors have assembled an excellent group of Baptist scholars to cover an amazing field of study that readers will find fascinating and rich. Much attention is devoted, as one might imagine, to describing and answering the paedobaptist tradition- and answer it does! Strong fidelity to Scripture's teaching, deep devotion to Christ and his great commission, and clear articulation of the glorious new covenant in Christ mark this excellent volume's treatment of baptism. Readers will be astonished at how much they will benefit from this book, and all those who cherish believer's baptism will rejoice that their view has been given such able expression.