Find this product on Logos.com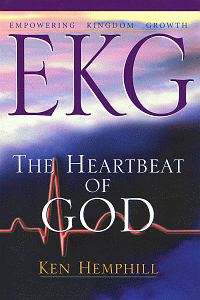 Empowering Kingdom Growth
The Heartbeat of God
Product Details
What is the Kingdom of God? What does it mean to be a Kingdom person?
EKG: The Heartbeat of God is the keystone book of the Empowering Kingdom Growth initiative. In thirty brief chapters, Ken Hemphill walks you through the history of God's kingdom, tracing its roots and tracking its resiliency through the pages of the Old Testament and the teachings of Christ—watching it explode in the early church and cascade into our current century—rolling, pulsating through people's lives and revealing God's power through time and eternity.
With it comes the pure resolve of being focused on one thing—God's kingdom—and discovering how this one-track mindset clarifies our calling in life, invigorates our everyday, and deepens our relationship with God and with others.
Have you been seeking your purpose for being here? Are you looking for a reason to keep on going? Are you tired, worn-out, broken on the wheels of living? Then there is good news for you. The kingdom of God is at hand!
The kingdom of God stretches larger than your dreams and deeper than your disappointments. On this narrow road to the kingdom's gate, you will find the keys to eternity and the keys to unlocking the Spirit of God within you. Seeking first the kingdom is the quest of a lifetime and the key to finding your purpose here on Earth.
About the Author
Ken Hemphill is the national strategist for Empowering Kingdom Growth, the joint initiative of the Southern Baptist Convention and LifeWay Christian Resources. He is the former president of Southwestern Baptist Theological Seminary in Fort Worth, Texas. Ken has written a number of books, including The Prayer of Jesus, The Names of God, Mirror, Mirror on the Wall, The Bonsai Theory of Church Growth, Growing an Evangelistic Sunday School, and The Antioch Effect. He resides in Traveler's Rest, South Carolina.