Find this product on Logos.com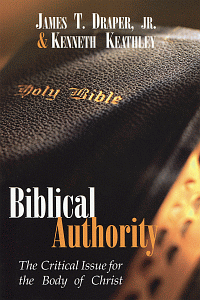 Biblical Authority
The Critical Issue for the Body of Christ
Product Details
In a world faced with every kind of religious pluralism, it is as imperative today as it has ever been for the Bible to remain the absolute standard by which all things are judged.
The subject of biblical authority may be the most critical and sensitive issue facing the evangelical Christian world today. The rippling effect of this discussion has touched every major theological and philosophical issue under consideration.
James T. Draper, Jr. and Kenneth Keathley, deal with this issue in a clear and concise way. They examine modern critical thought and historic positions of the church as well as new methods in interpreting the Bible such as reader response criticism and postmodern hermeneutics. Biblical Authority will strengthen one's faith in the Word of God.
About the Authors
James Draper is a former president of Lifeway Christian Resources. He has been in the ministry since 1956, having pastored churches in Texas, Oklahoma, and Missouri, including the First Baptist Church of Euless, Texas. A former president of the Southern Baptist Convention, Draper lives in Brentwood, Tennessee.
Kenneth Keathley is currently serving as Dean of Students and Assistant Professor of Theology and Philosophy at New Orleans Theological Seminary in New Orleans, Louisiana. He graduated from Southeastern Baptists Theological Seminary with a Master of Divinity and a Ph.D. in Theology. Since coming to Christ at the age of seventeen, Ken has served as youth pastor, interim pastor, or senior pastor of churches in Missouri, South Carolina and North Carolina. Ken, his wife Penny, and their two children reside in New Orleans.