Find this product on Logos.com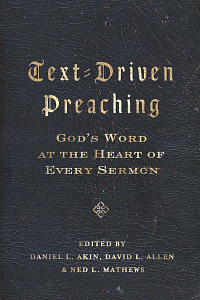 Text-Driven Preaching
God's Word at the Heart of Every Sermon
Product Details
Text-Driven Preaching urges pastors to faithfully present true expository messages from the pulpit. The authors know that one of the major reasons why today's church is spiritually anemic is the loss of scriptural content in contemporary preaching. In the rush to appear relevant, illustrations from hit television shows and bursts of pop psychology substitute for the Word of God. Contributors bringing us back to the Bible here include:
Daniel L. Akin
David L. Allen
Bill Bennett
David Alan Black
Adam Dooley
James M. Hamilton, Jr.
Ned L. Mathews
Paige Patterson
Jim Shaddix
Jerry Vines
Robert Vogel
Hershael York
About the Editors
Daniel L. Akin is president of Southeastern Baptist Theological Seminary in Wake Forest, North Carolina.
David L. Allen is dean of the School of Theology, professor of Preaching, and director of the Center of Biblical Preaching at southwestern Baptist Theological Seminary in Fort Worth, Texas.
Ned L. Mathews is professor emeritus of Pastoral Ministries at Southeastern Baptist Theological Seminary.
Endorsements
Tragically, today's pulpit is often a place of confusion rather than clarity. The preacher knows to do something with the text, but many preachers seem unsure of exactly what they are to do. Paul's command to Timothy is clear enough-preach the Word. In Text-Driven Preaching, Dr. Danny Akin and a team of expositors provide both encouragement and guidance to preachers-showing how to preach the text of Scripture. The book deserves a prime placement on every preacher's reading list.