Find this product on Logos.com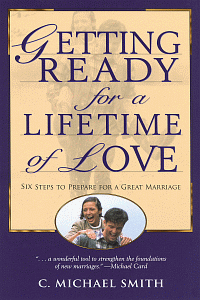 Getting Ready for a Lifetime of Love
Six Steps to Prepare for a Great Marriage
Highlights
Answers on how men and women communicate differently
Guidance on whether or not to pool your finances
Scriptural guidelines for a successful marriage
Steps to a wonderfully memorable and enjoyable wedding ceremony
Product Details
Before you say "I DO," be sure you know these do's and don'ts.
From planning the reception to preparing for your wedding night, a leading premarital counselor shows how to build the foundation for a loving, lifelong marriage.
You've found the life partner you've always dreamed of. Maybe you've even bought the rings, found the dress, hired a caterer, and sent out the invitations. But are you sure you're ready for marriage? Have you done everything you can to get ready for a lifetime of love?
Combining scriptural guidance with practical applications, Getting Ready for a Lifetime of Love encourages you to shape your marriage according to biblical values. By exploring the natural differences between the sexes and addressing important issues of intimacy from a Christian perspective, Pastor Mike Smith will help you avoid the pitfalls and perils young couples often experience, and replace them with an ever-satisfying, ever-loving marriage relationship.
About the Author
C. Michael Smith is a seasoned advisor and Youth Pastor who has helped hundreds of couples with premarital counseling ministry. In 1981, he received his Master of Divinity from Gordon Conwell Theological Seminary. Currently, Mike, his wife Rinda, and their three children live in Franklin, Tennessee, where he serves as the Associate Pastor of Christ Community Church.
Endorsements
I've been fortunate to walk with Mike Smith on the journey of faith as a fellow father, husband, and follower of Jesus Christ. As a friend, I've come to know Mike as a man of great commitment, integrity, and wisdom, but most importantly as a man who is acutely aware of his own need of God's grace. I highly recommend this book because I know that the heart from which these ideas have flowed is filled with the love of Christ.
Pastor Mike Smith uses the language of calling. God has called his people for his purposes, everywhere and in everything- including marriage. I can't imagine a more concise, yet comprehensive, book for preparing God's people for oneness in marriage. This is essential reading for all lovers, regardless of age. It will make a difference for God's kingdom.
This important book describes the kind of marital relationship that God intended us to have. Not only does Mike Smith explain the difference between male and female roles, he shows us how to bring couples together into a oneness ready for marriage. Going through the material with him opened our eyes and helped us prepare for the most important human commitment of our lives.
[This] book is based on years of premarital counseling experience and, more importantly, on a Christ-centered compassion for those who are about to embark on the greatest adventure called marriage. Mike has given the Christian community a wonderful tool to strengthen the foundations of new marriages and to add strength to those which are already established.