Find this product on Logos.com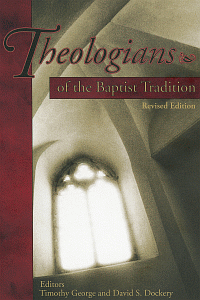 Theologians of the Baptist Tradition
Product Details
Theologians of the Baptist Tradition is an effort to preserve and discover the Baptists' "underappreciated contribution to Christianity's theological heritage." Theologians Timothy George and David S. Dockery present a volume of essays to serve as a resource for pastors, students, and teachers and as an introduction to the life and thought of some of the most notable shapers of Baptist theology.
Baptist theologians profiled include John Gill, Andrew Fuller, John L. Dagg, James Petigru Boyce, John A. Broadus, A.T. Robertson, Charles Spurgeon, A.H. Strong, B.H. Carroll, E.Y. Mullins, W.T. Conner, Hershel Hobbs, W.A. Criswell, Frank Stagg, Carl F.H. Henry, James Leo Garrett, Jr., and Millard J. Erickson.
About the Editors
Timothy George is Dean of Beeson Divinity School of Samford University in Birmingham, Alabama. A noted historian and theologian, he has written and edited numerous books including Theology of the Reformers, The New American Commentary on Galatians, and together with his wife Denise, The Library of Baptist Classics. He chairs the Theological Education Committee of the Baptist World Alliance and also serves as executive editor for Christianity Today.
David S. Dockery is President of Union University in Jackson, Tennessee where he has served since 1995. Dockery is the author or editor of over thirty books including Southern Baptist Consensus and Renewal, Renewing Minds, Biblical Interpretation Then and Now, Interpreting the New Testament, Theologians of the Baptist Tradition, Shaping a Christian Worldview, Holman Bible Handbook, Foundations for Biblical Interpretation, Southern Baptists and American Evangelicals, New Dimensions in Evangelical Thought,and Christian Scripture: An Evangelical Perspective on Inspiration, Authority and Interpretation. He is a consulting editor for Christianity Today and serves on several editorial boards for a variety of periodicals and publishing houses. Dockery has served as Chair of the Board of Directors for the Council for Christian Colleges and Universities, as well as the Consortium for Global Education.
Endorsements
Baptists should read this book to gain a better sense of who they are, others to discover an underappreciated contribution to Christianity's theological heritage.