Find this product on Logos.com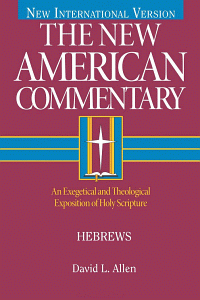 New American Commentary - Hebrews
Vol. 35
Highlights
A thorough, verse-by-verse analysis
Insightful and technical aimed at the serious Bible scholar
Great for the pastor or serious Bible student
Vast in scope, eventually to total 42 volumes
Over 40 scholars worked on the complete set
Product Details
The New American Commentary Series
In development for over a decade, The New American Commentary series is for those who have been seeking a commentary that honors the Scriptures, represents the finest in contemporary evangelical scholarship and lends itself to practical work of preaching and teaching. This comprehensive series serves as a minister's friend and a Bible student's guide.
The New American Commentary is based on the inerrancy of Scripture, focuses on the intrinsic theological and exegetical concerns of each Biblical book, and engages the range of issues raised in contemporary Biblical scholarship. Drawing on the skills and insight of over forty Bible scholars, the New American Commentary brings together scholarship and piety to produce a tool that enhances and supports the life of the church.
About the Author
David Allen is dean of the School of Theology, professor of Preaching, and director of the Center of Biblical Preaching at Southwestern Baptist Theological Seminary in Fort Worth, Texas.
Endorsements
Undaunted by the interpretive problems that plague the book of Hebrews, David Allen tackles them with great tenacity. His unparalleled resolve that Luke wrote this sermon-like letter for converted Jewish priests living in Syrian Antioch, and his subsequent structural and theological interpretation merit this commentary to be a vital source for anyone who wishes to study the book of Hebrews thoroughly.
David L. Allen's commentary provides a provocative challenge for New Testament scholarship, while at the same moment offering a delightful pastoral approach for the preaching of Hebrews. This ground-breaking volume is the most important work I have seen on the book of Hebrews.