Find this product on Logos.com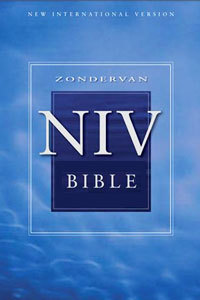 Highlights
Dynamic equivalence (thought for thought)
Product Details
The New International Version is a completely new translation of the Holy Bible made by over a hundred scholars working directly from the best available Hebrew, Aramaic and Greek texts. The New International Version had its beginning in 1965 when, after several years of exploratory study by committees from the Christian Reformed Church and the National Association of Evangelicals, a group of scholars met at Palos Heights, Illinois, and concurred in the need for a new translation of the Bible in contemporary English.
Responsibility for the new version was delegated by the Palos Heights group to a body of fifteen, composed for the most part of biblical scholars from colleges, universities and seminaries. In 1967 the New York Bible Society (now the International Bible Society) undertook the financial sponsorship of the project. The fact that participants from the United States, Great Britain, Canada, Australia and New Zealand worked together gave the project its international scope. The participates also were from many denominations, including Anglican, Assemblies of God, Baptist, Brethren, Christian Reformed, Church of Christ, Evangelical Free, Lutheran, Mennonite, Methodist, Nazarene, Presbyterian, Wesleyan and other churches.
How it was made helps to give the New International Version its distinctiveness. The translation of each book was assigned to a team of scholars. Next, one of the Intermediate Editorial Committees revised the initial translation, with constant reference to the Hebrew, Aramaic or Greek. Their work then went to one of the General Editorial Committees, which checked it in detail and made another thorough revision. This revision in turn was carefully reviewed by the Committee on Bible Translation, which made further changes and then released the final version for publication. In this way the entire The New International Version underwent three revisions, during each of which the translation was examined for its faithfulness to the original languages and for its English style.
For the Old Testament of the The New International Version the Masoretic Text, as published in the latest editions of Biblia Hebraica, was used throughout. The Dead Sea Scrolls were consulted, as were the Samaritan Pentateuch and the ancient scribal traditions relating to textual changes. The translators also consulted the more important early versions—the Septuagint; Aquila, Symmachus and Theodotion; the Vulgate; the Syriac Peshitta; the Targums; and for the Psalms the Juxta Hebraica of Jerome. The text used in translating the New Testament was the Nestle-Aland Greek New Testament. Recent archaeological and linguistic discoveries helped in understanding traditionally difficult passages to translate.