Find this product on Logos.com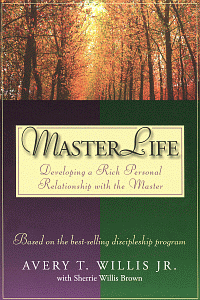 Master Life
Developing a Rich Personal Relationship with the Master
Product Details
The Master Life program has been instrumental in revitalizing and encouraging thousands of Christians. Now available in Wordsearch, it's destined to become an even more powerful and influential resource. If you want to become a stronger, more dedicated Christian, Master Life will enable you to make Christ the Master of your life by mastering your own life and developing a personal, lifelong, obedient relationship with the Lord.
Master Life is actually four books in one, each a self-contained program encouraging the development of a specific facet of your spiritual life over a six-week study.
The Disciple's Cross explains step-by-step how to practice the six biblical disciplines of an obedient disciple.
The Disciple's Personality shows you how to live in the Spirit and become more like Christ.
The Disciple's Victory depicts the loyal Christian's triumphs over the world, the flesh, and the devil, and shows you how to triumph as well.
The Disciple's Mission encourages you to look within yourself and identify your own stage of growth and role in ministry.
About the Authors
Avery T. Willis Jr. has written widely on spiritual themes, including Master Life: Discipleship training for Leaders, The Biblical Basis of Missions, and Master Builder: Multiplying Leaders. He is the former vice president of the Southern Baptist Convention's International Mission Board, where he oversaw the work of 5,600 missionaries in more than 130 countries.
Sherrie Willis Brown is a graduate of Vanderbilt University and resides in Kansas City, Missouri.
Endorsements
For millions of God's people, Master Life transformed their life, as nothing else I know. It was truly a pacesetter in discipleship - and still is! The truths are eternal, and now they will be available to millions of people around the world at a most crucial time in the activity of God. There is nothing that I know of that I would recommend with more excitement than Master Life.