Find this product on Logos.com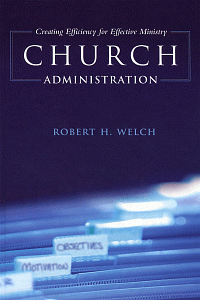 Church Administration, 2nd Edition
Creating Efficiency for Effective Ministry
Highlights
A thorough guide to church organization and administration
Product Details
For churches and religious nonprofits, the business of business is not business- it is ministry. Still, these organizations have to plan. Because organization is needed to accomplish specific tasks, leadership must train and motivate workers in progress and effectiveness. Church Administration will assist the pastors and church staff in becoming effective and efficient leaders, managers, and administrators.
Topics Discussed Include:
Documents for Administration
Organizing the Church
Administering Personnel Resources
Financial Resources
Physical Resources
Administering Risk Management
About the Author
Robert H. Welch is dean of the School of Educational Ministries, and professor of administration at Southwestern Baptist Theological Seminary. He received a BS from East Tennessee State University, a MS from the Naval Postgraduate School, and a Mare and Ph.D. from Southwestern Baptist Theological Seminary. He resides in the Fort Worth, Texas area.
Endorsements
Introduction to Church Administration is a comprehensive volume on the various aspects of doing church. Dr. Welch uses his military experience, his church leadership experience, and his teaching experience to describe what he feels is necessary for an effective church operation. The chapters which deal with the organizational structure of the church are inclusive and well written. The chapters which relate to administering the activities and programs of the church provide suggestions which will help the church meet its responsibilities and remove itself from legal or tax complications. Overall, the book provide guidance for anyone seeking to give leadership to the church for its organization and for conducting its business in a logical and effective manner.
Robert Welch has written a valuable resource for today's church leader. The information in Church Administration addresses basic administrative issues all church leaders face. The book is practical, insightful, and clear. It certainly will be the text of choice in Christian Education and pastoral Ministry. This book is a necessary addition to every church leader's library.
Dr. Welch has created a comprehensive book on church administration in his user-friendly, easy-to-understand style. This work is an excellent companion to his previously published work with NACBA Press, The Church Organization Manual, and provides helpful assistance to those persons responsible for conducting the business affairs for a local congregation.
For many , church administration may be a cross to bear, but it is nonetheless a necessary concomitant to successful churchman-ship. Dr. Bob Welch has brought to his monograph Church Administration the wealth of his observations gleaned from many years of doing church administration and teaching church administration. The chapter on Administering Personnel resources alone is worth the price of the book, and his discernment in administering the programs of church ministry is priceless. I comment the book to all who approach this task.
For the layperson, administrator, or student who is seeking to guide and direct the administration of the church, Bob's wisdom is vital. He has been there and done it. His practical insights and experience will guide you every step of the way.