Find this product on Logos.com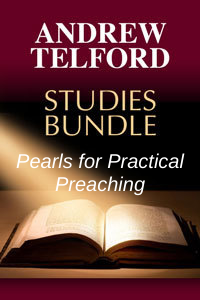 Pearls for Practical Preaching
A Study Course in Homiletics
Highlights
Precepts for preparing and presenting sermons
Product Details
Pearls for Practical Preaching is a series of lectures on homilies. Its purpose is to equip pastors to prepare and present sermons on the Word of God that will effect and benefit their pastorate and audience. It will also assist preachers in securing a variety of material from a text or portion of scripture.
About the Author
Dr. Andrew Telford (1895-1997) was a pastor, teacher, and writer of the Word of God. Many of his books were written at the request of believers who were encouraged by his preaching and desired to have his sermon points in written form.
Endorsements
Dr. Andrew Telford was a remarkable man of God. A review of his life and ministry will reveal his dedication to the Lord's call, his demonstration of the Lord's gifts, and his determination in the Lord's service. Students of the Bible will benefit from his practical application of the Scriptures. Bible teachers will recognize his ability to formulate his thoughts. Preachers of the Word will appreciate his skill to alliterate his points. I commend his writings for your prayerful consideration.