Find this product on Logos.com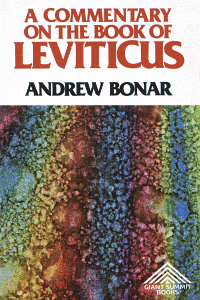 A Commentary on the Book of Leviticus
Highlights
Named as one of the 850 Books for Biblical Expositors by the Master's Seminary
Product Details
God speaks directly on almost every page of Leviticus. In fact, there is no other book in the Bible that contains more of His very words.
Andrew Bonar was greatly concerned that Christians honestly examine the content of the book, regardless of its "obscurity" and "enigmatical ceremonies." In this commentary, Bonar boldly attempts to study the record of Hebraic regulations and rites. As he says, "The Holy Spirit surely wishes us to inquire into what he has written; and the unhealthy tone of many true Christians may be accounted for by the too plain fact that they do not meditate much on the whole counsel of God. Experience, as well as the Word itself (Ps. 1:2,3), would lead us to value very highly the habit of deeply pondering the discoveries of the mind God has given in all parts of Scripture, even the darkest."
About the Author
Andrew A. Bonar (1810-1892) is widely known for his classic biography of Robert Murray McCheyne. He was a minister of Free Church in Glasgow, Scotland.