Find this product on Logos.com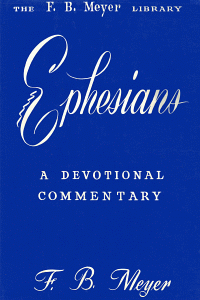 Ephesians
A Devotional Commentary
Highlights
Examines 15 Key Truths in the Book of Ephesians
Product Details
The Apostle Paul is, beyond question, the outstanding expositor of Christian doctrine. In particular, his epistles abound in practical wisdom and authoritative Christian counsel. He is the undisputed herald of Christian doctrine. In many ways, his epistle to the Ephesians contains his most practical and plain discussion of the Christian life.
Under the inspired pen of F.B. Meyer, Paul's thoughts contained in the epistle to the Ephesians become even more meaningful and applicable to life today. Author Meyer does not sacrifice clarity and practicability for beauty of oratory-yet his simple, glowing commentary Ephesians is unexcelled for beauty of style and readability.
"Timeliness" is the keynote for much of today's reading—and Dr. Meyers' devotional commentary on Ephesians has this and much, much more! Here's ideal supplementary material on the book of Ephesians for ministries and Christian workers.
About the Author
One of the greatly loved preachers of his day, Frederick Brotherton Meyer was a pastor, author, Bible teacher and evangelist. He was born in London in 1847.
Dr. Meyer began pastoring in 1870, and in 1872 he went to Priory Street Baptist Chapel. There he met D.L. Moody, who made a lasting impression upon his life and taught him valuable spiritual lessons. These two godly men formed a lifelong friendship.
During his long and fruitful life, he preached more than 16,000 sermons. Said one author: "The phrasing of Meyer's sermons was simple and direct; he polished his discourses as an artist polishes a perfect stone. There was always a glowing imagery in his words; his speech was pastoral, lovely as an English valley washed in sunlight…In his day, great wars raged. Those who went to hear him forgot the battles."
A distinct feature of F. B. Meyer's ministry was his outcry against the social evils of his day. Not only was he effective in the temperance movement, but he was also responsible for the closing of over 500 houses of prostitution. He also formed a prison aid society.
A devoted student of God's Word, he was the author of over 40 books, including Bible biographies (character studies), devotional commentaries, sermon volumes and expository works. He also authored several pamphlets and edited a number of magazines.
Endorsements
F.B. Meyer preaches as a man who has seen God face to face.