Find this product on Logos.com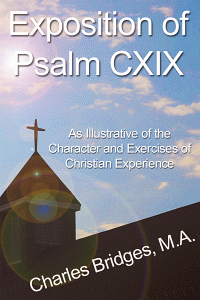 Exposition of Psalm CXIX
As Illustrative of the Character and Exercises of Christian Experience
Product Details
Human nature has undergone no change since the fall. In its unrenewed state, it is still held captive in the chains of sin. However when renewed, it is under the influence of the same Spirit of grace. It is the object of this work to exhibibit an Old Testament believer in a New Testament garb, as one "walking in the same spirit, and in the same steps" with ourselves and in bringing one to the Evangelical standard, it is presumed, that man will be found complete. This expostion adheres to the prominent characteristic of the the Psalms - which is to love and yearn for the Word of God. The writer suggests that every morning, one should take a verse of Psalm CXIX and meditate on it. That he says, "will bring you to be in love with the rest of scripture!"
About the Author
Charles Bridges, MA (1794 - 1869), was a preacher and theologian in the Church of England and a leader of that denomination's Evangelical Party. As a preacher he was well regarded by his contemporaries, but is remembered today for his literary contributions. He was educated at Queens' College, Cambridge and was ordained in 1817 and served from 1823 to 1849 as vicar of Old Newton, Suffolk.
In 1849, he became vicar of Weymouth, Dorset, later serving as vicar of Hinton Martell, Dorset (c. 1857). Bridges participated with J. C. Ryle in the Clerical Conference at Weston-Super-Mare of 1858, and also participated in the consecration of the Bishop of Carlisle in York Minster in 1860.
His literary works include: The Christian Ministry (1829), Memoir of Mary Jane Graham (c. 1834), Forty-eight Scriptural Studies (1837), Exposition of Proverbs (1840), A Manual for the Young (1849), Exposition of Ecclesiastes (1860), Correspondence (posthumous, 1870), and at least twenty-four editions of Bridges' Exposition of Psalm 119 (1827) were published in his lifetime.
Endorsements
Worth its weight in gold.