Find this product on Logos.com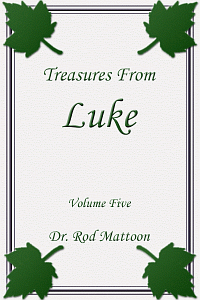 Treasures from Luke, Volume 5
Product Details
Rod Mattoon's Treasures series features an expository, verse-by-verse commentary with an emphasis on practical application. Each commentary is outlined in an alliterated style and features sermon illustrations that help illuminate the Bible text. Easy-to-understand Greek and Hebrew word studies assist the student in gaining a deeper understanding of Scripture. Topical and character trait studies are also included where pertinent to the passage being covered.
Sampling of Chapters Included:
Dealing with your Deficit
Occupy Till I Come
What makes you cry?
A Glimpse at the Future
About the Author
Dr. Rod Mattoon was saved at the age of 15 in August of 1971 on a mission trip to Camp of the Woods near Dryden, Ontario, Canada. On the same night that he was saved, Mattoon dedicated his life to the ministry of the word of God.
He became active in his home church, Calvary Baptist, in Normal, Illinois, where he was trained in aspects of the ministry by Dr. Ron Allen, Dr. Arno Weniger Jr., and Dr. Greg McLaughlin. Dr. Mattoon's first message was preached at the age of 16 on April 7th, 1972, on "The Tick of Time" from 2 Corinthians 6:2.
From 1973-1977, he attended Hyles-Anderson College. It was there that he met his wife Linda. They were married in 1977 and have since had seven wonderful kids. Mattoon graduated with honors from college that same year and went on to earn his doctor of ministry degree from Bethany Theological Seminary in Dothan, Alabama.
In Texas, Mattoon served as an assistant pastor in two churches and took his first senior pastorate at Emmanuel Baptist Church in Jacksonville. He has been the pastor of Lincoln Land Baptist Church in Springfield, Illinois since 1991. The emphasis of his ministry at Lincoln Land has been evangelistic, expository Bible preaching.