Find this product on Logos.com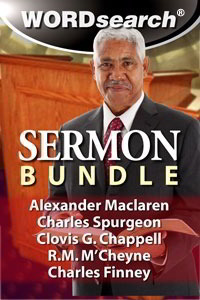 Product Details
Our rich Christian history has blessed us with many brilliant expositors, who offer the whole of Christendom excellent material on Bible themes and passages. This Sermon Bundle contains hundreds of relevant lessons written by such expositors that you'll find easy to incorporate into your own sermons and lessons.
Sermons Preached in Manchester is a collection of sermons by Alexander Maclaren. With great interest, I read how Maclaren teaches us about the good fortune of bad men, and the bad fortune of good ones. His conclusion is both profound and teachable.
Sermons in Candles by Charles Spurgeon uses the simple candle as a metaphor to teach Godly principles. Spurgeon reviews where candle light or "lamps" are used throughout the Bible and wisely offers insight like, "Misers have been known to go to bed to save candle for themselves; what would they not do to escape burning a candle for other people?" He also teaches us about true light versus the appearance of light.
Sermons on Biblical Characters by Clovis G. Chappell looks into the lives of 16 different Bible characters. You might be surprised because while Chappell examines the lives of greats like Paul, Peter and Elijah, he also brings us important lessons from lesser-known characters like Jonathan, Jochobed and Pharaoh.
Sermons of R.M. M'Cheyne is a remarkable set of brilliant sermons that was nearly lost to history when the prolific expositor M'Cheyne died at the age of 29. This young preacher's insight is astonishing. We learn from his excellent sermon on "Lot's Wife" that our friends will often go along with us to flee destruction, but their undoing comes when they look back to their previous life.
Sermons on Gospel Themes by Charles Finney is an outstanding collection from the great preacher who was known as "The Father of Modern Revivalism." Finney originally studied to become a lawyer, which quickly becomes apparent. His rock-solid sermons are organized with great care, and his arguments for God are presented with the passion of an advocate.
Products Included In This Bundle