Find this product on Logos.com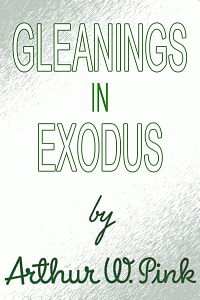 Product Details
The beginning of a nation arrests world attention; the bondage of a people evokes the full range of human feeling; the effective work of a human deliverer for one or a million raises human emotions to an exceedingly high pitch.
In Exodus we have the beginning of a nation, Israel; we have the enslavement of a people, the Israelites; we have the arrival of a deliverer named Moses who carried through the demand of the Lord, "Let my people go." In spiritual terms we have the beginning of a Christian life, the acknowledgement of a power which will work in the Christian and for the Christian beyond the natural; the redemption from the bondage of sin, of Satan thorough a divine Deliverer, Jesus Christ our Lord.
Christians young or old cannot help but be blessed in pursuing a reading and study of Exodus, second book in the Bible. In this book, Arthur W. Pink provides you with hours of blessed study help for your spiritual enrichment. He gives thoughtful guidance for weeks on end for the teacher of a Bible class. Students or teacher may mine some of the richest of Bible ore from this book of Exodus and become wealthier spiritually in possession of its mighty truths. We heartily commend to you GLEANINGS IN EXODUS by Arthur W. Pink.
About the Author
Arthur Walkington Pink was born in Nottingham, England. He died in Stornway, Scotland, in 1952. His widespread ministry included pastorates in Australia and the United States. He originated Studies in the Scriptures, a monthly magazine concerned solely with the exposition of the Scripture.
Mr. Pink's view of the Scriptures, of doctrine, and of Christian practice was not the view of the twentieth century, nor even of many of his contemporary Evangelicals. Few men have traveled so widely and yet remained so uninfluenced by prevailing opinions and accepted customs. Independent Bible study convinced him that much of modern evangelism was defective at its very foundations; when Puritan and Reformed books were thrown out, he advanced the majority of their principles with untiring zeal. He was, in some ways, a Puritan born out of time.
Events have justified his outlook. Two World Wars have substantiated his view on human depravity; the progressive decline of his nation (Britain) was to him the inevitable consequence of the prevalence of a gospel which is able neither to wound nor heal.
Familiar with the whole range of revelation, Mr. Pink could divide the truth with due weight and emphasis. He was rarely sidetracked from the great themes of Scripture - grace, justification, and sanctification. One looks in vain for any quaint theories on prophecy and kindred subjects. The work of God the Father and God the Holy Spirit receive their proper emphasis as well as the work of the Son.
Endorsements
One of the best commentaries on the Book of Exodus