Find this product on Logos.com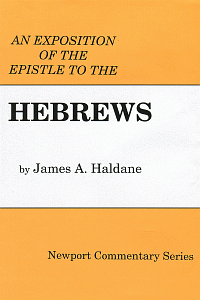 An Exposition of the Epistle to the Hebrews
Product Details
This volume by the esteemed Scottish Baptist James Alexander Haldane (1768-1851) deserves a place among the finest commentaries on this New Testament epistle. Haldane had originally penned this work with a view towards writing a fuller exposition, but died before he could complete the task. Nonetheless these "notes of an intended exposition" alone comprise a full and rich name of Biblical instruction.
Haldane's correspondence from his latter years revealed "how much his mind was interested in the work" and "had cost him so much thought and pleasant labour." In the book of Hebrews, Haldane reminds us, "the consideration of the surpassing dignity of the Son of God, by whom God had spoken in these last days" is the focal point of this entire epistle. "Believers ought diligently to attend to whatever the Lord Jesus has said in His Word. The Gospel itself is the great truth, the belief of which is salvation, however great men's ignorance in other respects may be; yet nothing which God has said is to be over-looked, but everything is to be attended to as far as it is understood". Haldane, in faithfulness to the text, sets forth Christ as the one true Deliverer from sin as the Savior of His People.
About the Author
James Alexander Haldane was born in Dundee, Scotland on July 14, 1768. After a few years study in Edinburgh University, he commenced a maritime career in the service of the East India Company in 1785. Ten years later he and his wife decided to settle in Edinburgh, where shortly after he was converted to faith in Christ through the instrumentality of an Independent minister, David Bogue. In 1797 he began his first preaching tour through the north of Scotland. Though at the time still a member of the Church of Scotland, Haldane began to question and challenge the established Church, disregarding parish lines and encouraging itinerant evangelism. By 1799 he had moved away from Presbyterianism and received ordination as pastor of an Independent congregation meeting at the former Circus building in Edinburgh known as the "Tabernacle." In reviewing both doctrine and polity in the light of the Bible and through the influence of the writings of the Scottish Baptist Archibald MacLean and Lachlan Macintosh, James Haldane came to embrace Baptist views and was scripturally baptized in the spring of 1808. For 50 years Haldane ministered at the new Tabernacle in Edinburgh, built for him by his brother Robert, and opened in 1801. James Haldane died on February 8, 1851.
Endorsements
A posthumous work issued not as a finished exposition, but as notes of an intended exposition. Very valuable for all that.