Find this product on Logos.com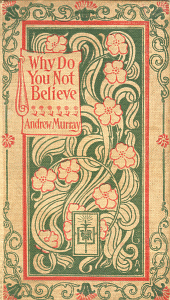 Product Details
Yet another Christian classic from the pen of Andrew Murray. This volume delves into these topics of faith:
The Absolute Necessity of Faith
The Object of Faith
The Seed of Faith
The Language of Faith
The Beginning of Faith
The Spirit of Faith
The Repentance of Faith
The Humility of Faith
The Finding of Faith
The Simplicity of Faith
The Sincerity of Faith
The Penitence of Faith
The Fear of Faith
The Certainty of Faith
The Glorifying of God by Faith
The Power of Faith
The Childship of Faith
The Surrender of Faith
The School of Faith
The Word of Faith
The Thanksgiving of Faith
The offense of Faith
The Stability of Faith
The Justification of Faith
The Works of Faith
The Obedience of Faith
The Nutriment of Faith
The Tenderness of Faith
The Hand of Faith
The Hindering of Faith
The Gift of Faith
About the Author
Andrew Murray Jr. (1828-1917) was the second child of Andrew Murray Sr., a Dutch Reformed Church missionary sent from Scotland to South Africa. Andrew Murray Jr. was Born in Cape Town, South Africa. His mother had connections with both French Huguenots and German Lutherans. Andrew was sent to Aberdeen in Scotland for his initial education together with his elder brother, John. Both remained there until they obtained their M.A. in 1845. From there they both went to the University of Utrecht where they studied theology. Both brothers were ordained by the Hague Committee of the Dutch Reformed Church on May 9, 1848 and returned to the Cape.
Andrew pastored churches in Bloemfontein, Worcester, Cape Town and Wellington, all in South Africa. Murray married Emma Rutherford in Cape Town, South Africa, on July 2, 1856. They had eight children together, four boys and four girls. He was an amazingly prolific Christian author. All of his publications were originally written in Dutch and then translated into English. As his popularity grew, Murray's books found their way into more than twelve foreign languages during his lifetime alone.
In 1889, he was one of the founders of the South African General Mission (SAGM), along with Martha Osborn and Spencer Walton. After Martha Osborn married George Howe, they formed the South East Africa General Mission (SEAGM) in 1891. SAGM and SEAGM merged in 1894. Because its ministry had spread into other African countries, the mission's name was changed to Africa Evangelical Fellowship (AEF) in 1965. AEF joined with SIM in 1998 and continues to this day. Murray was an alert and intense man, and he died on January 18, 1917, four months before his eighty-ninth birthday. His burning desire to transpose all that lay on his heart and spirit to paper was revealed in the presence of several manuscripts in various stages of completion at the time of his death.
Endorsements
All that this author writes is good.