Find this product on Logos.com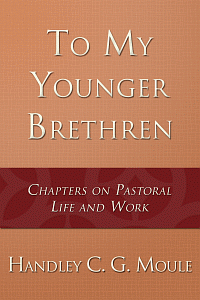 To My Younger Brethren
Chapters on Pastoral Life and Work
Product Details
Handley C. G. Moule offers from his own personal ministry insights and perspectives on the pastorate, including: Walking with God, Walking with Others, Secret Study of the Scriptures, and Preaching.
About the Author
H.C.G. Moule was the Bishop of Durham from 1901-1920. He was educated at Trinity College, Cambridge (B.A., 1864), where he was fellow from 1865 to 1881. He was assistant master at Marlbouough College (1865-67), assistant curate of Fordington, Dorset (1867-73, 1877-80), dean of Trinity College (1873-77), first principal of Ridley Hall, Cambridge (1881-99), and Norrisian professor of divinity at Cambridge (1899-1901). In 1901, he was consecrated bishop of Durham. He was also select preacher at Cambridge in 1880, 1882, 1891, 1894, 1896, 1899, and 1900 and at Oxford in 1895, as well as honorary chaplain to the queen in 1898-1901 and to the king since the latter year. In theology he is "deeply attached to the main positions and traditions of the English Reformation, a humble believer in the divine authority of the Holy Scriptures, and in later years greatly influenced by the Keswick movement."
Some of his notable works include: Daniel: or,the Secret of Continuance (1890); At the Holy Communion (1892); Jesus and the Resurrection (1893); Grace and Godliness (1895); Prayers and Promises (1896); Philippian Studies (1897); Colossian Studies (1898); Our Prayer-Book (1898); Confession (1899); On the Holy Communion (1899); Our Great High Priest, (1899); Ephesian Studies (1900); The Secret of the Presence, and other Sermons (1900), Second Epistle to Timothy (1905); Holiness by Faith (1906); Scenes in the Life of our Lord (1907); The High Priestly Prayer: a Devotional Commentary on the 17th Chapter of St. John (1907); Christ's Witness to the Life to Come, and Other Sermons (1908); Faith, its Nature and Work (1909); and Messages from the Epistle to the Hebrews (1909).